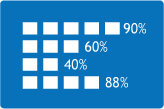 According to AUTO-Consulting, in November almost 8.3 thousand new cars were sold by the efforts of all operators, which is 27% more than a year earlier. In just 11 months, the car market has already exceeded the indicators of the whole of 2018 with the sale of more than 80 thousand new cars.
In November, the dynamics of the car market slowed down a bit, compared with October, when 9.1 thousand new cars were sold, but remained at a high double-digit level (+ 27%).
Such high growth rates made it possible to carry out the last year's annual sales program in November and the 2019 market so far is at 11% growth rate.
The leader in November again became Renault, which consistently controls 20% of the Ukrainian car market. The remaining brands from the Top 5 have no changes either - they retained their places and indicators. In November, Hyundai, Mitsubishi intensified and this allowed them to improve their performance. Peugeot is firmly established among the leaders in the Top 10.
The sensation of November was the breakthrough of Mercedes-Benz in the group of leaders. Now the German brand has not only regained its status No. 1 among premium brands, but also has become one of the most popular cars in the Ukrainian market.
A tough fight has unfolded among competitors in the premium segment. So. BMW, Audi and Lexus were next in November, but in November BMW emerged victorious from this battle.