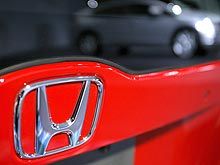 April 15, 2015 - in Kiev there was held "Honda Ukraine" dealers conference, in which it was announced that from July 2015 new distributor of automobiles and motorcycles manufacturing corporation Honda Motor Co. in Ukraine will be the company "Pride Motor" of Sergey Dashko.
The company "Pride Motor" was chosen as the new distributor of Honda primarily because its owner, Mr. Sergey Dashko, has many years of experience with the brand Honda, as well as a deep knowledge and understanding of the philosophy of Honda. He also focused its business on this brand.
The company "Honda Ukraine" is the official distributor of Honda and Acura, Honda motorcycles and power equipment in Ukraine. It was founded May 3, 2006. Today there is a network of 16 authorized dealers of motorcycles, 33 automobile dealerships Honda, 2 car dealerships Acura, 34 power equipment dealers that operate across Ukraine.